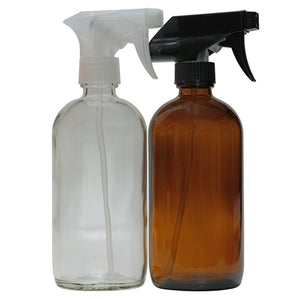 Glass Spray Bottle (16 oz)
Regular price
$9.99
$0.00
Unit price
per
These are perfect for refilling with your favorite glass cleaner, counter spray, vegetable wash, room spray, etc. We love these because they are thick glass and durable for using over and over again. Here is our favorite counter spray recipe:
Counter Spray Recipe
In a 16-22 ounce spray bottle, add 1 ounce Castile Liquid Soap, 1 ounce alcohol (high proof neutral grain spirit such as EverClear or Vodka), and the following essential oils:
25 drops Lemon essential oil
12 drops Tea Tree essential oil
6 drops Thyme ct Thymol essential oil
Gently mix, then simply top off with water (distilled is best).

About this recipe: This is a mildly alkaline formulation, therefore, safer for quartz, granite, marble, concrete, or any surface where acidic cleaners are not recommended. The alcohol is added to help reduce streaking and also contributes to the sanitizing properties.
---