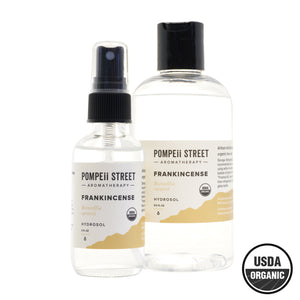 Frankincense Hydrosol
Regular price
$8.00
$0.00
Unit price
per
Botanical Name: Boswellia carterii
Hydro Distilled: January 2023
Plant Part: Resin
Shelf Life: 18 Months (if refrigerated)
Cultivation:  Certified Organic, Somalia
Skin Types: All Skin Types
Uses: Facial Toner (Astringent & pH Balancing), Sunburn Relief
Frankincense hydrosol is balancing which makes it a fantastic skin toner! It has a balancing, astringent property that makes it a great choice for areas of the skin that need to just "calm down." A wonderful anti-septic with a gentle, warm aroma, Frankincense Hydrosol is safe for children and pets. When sprayed in the mouth with a spritzer or used to gargle or as mouthwash, Frankincense hydrosol is your oral hygiene champion! Before heading out to yoga class, spritz yourself with this grounding hydrosol and help clear your mind and ground your thoughts. After yoga, spritz your yoga mat and keep the germs away until your next class! Better yet, make a Yoga Mat Spritzer with a combination of anti-fungal essential oils and use Frankincense hydrosol as a base! As hydrosols are a safe choice to use with pets, consider using Frankincense Hydrosol in combination with Lemongrass Hydrosol for your canine and feline "stinky ear" situations. Apply to a cotton ball or use a sterile spritzer bottle and then wipe the ear free of dirt and wax fostering that yeast smell. Gentle enough to use daily.
ABOUT POMPEII STREET HYDROSOLS
When plant material is distilled in a copper still, two products are generally produced, essential oil and hydrosol. Hydrosol is the water part of the distillation and carries an abundance of therapeutic properties. Because this is the water part of the distillation, it is not as concentrated and dilution is not necessary. You can use hydrosols directly out of the mister bottle for an abundance of skin care applications. All our hydrosols are certified organic and cultivated and distilled in the USA for Pompeii Street Aromatherapy. Rose is the only exception since it was distilled from certified organic roses in Bulgaria. The distillation techniques used were to achieve the highest quality, therapeutic hydrosol. Our Hydrosols are NOT byproducts of making essential oil. They have all been distilled exclusively for the hydrosol.
---