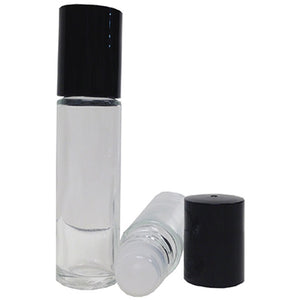 Glass Roll On Bottle (10 ml) Clear
Regular price
$1.25
$0.00
Unit price
per
Clear Glass Roll On Bottle with Ball Fitment & Black Cap It is super easy to take your Pompeii Street Aromatherapy essential oils and blends on the road with you everywhere you travel! 
Keep your blends nearby by applying them with this handy roll on bottle that is small enough to put in your pocket and easy enough to provide you the "essential" relief you need at any time and any place!
Here are some ideas:
Going on a hike? Put some oils bugs just plain don't like in your roll on! Give the oils of Lemongrass and Geranium a try for repelling insects while out in the woods.
Get bit by a buzzing bug? Make sure you have some Tea Tree and Peppermint in a roll on for quick and easy itch and pain relief!
Going by plane somewhere fun? Calm your flying fears with a blended mixture of Lavender and Orange! Calm your nervous tummy with Peppermint or Ginger!
Have trouble sleeping in hotels and places not your home and not your bed? Take along a roll on with a Lavender, Ylang Ylang, Sweet Majoram or Orange!
Get Blending!!! But don't forget to ALWAYS dilute your essential oils in a carrier oil for use in the roll on bottle or any other application!
---