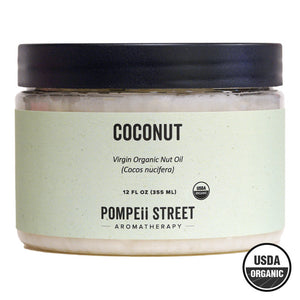 Coconut Oil, Virgin Organic (12 fl oz)
Regular price
$12.00
$0.00
Unit price
per
Virgin coconut oil is one of our favorite carriers to use for lip balms, hair treatments, sun burn, and fungal blends.
This is unrefined virgin coconut oil with a natural coconut scent.
Net Contents: 12 fl oz
Batch Details
Latin Name: Cocos nucifera
Cultivation: USDA Certified Organic, Fair Trade Certified
Fatty Acid Profile: Lauric acid (51.5%), Myristic acid (18.3%), Palmitic acid (7.6%), Caprylic acid (8.0%), Capric acid (5.9%), Linoleic acid (1.5%)
Usage
Coconut oil absorbs quickly into the skin, therefore, does not clog pores and doesn't leave any greasy residue.
You don't even need to blend it with anything to enjoy it's skin-nourishing benefits.
Shelf life is stable (3 years if stored at room temperature or below).

---